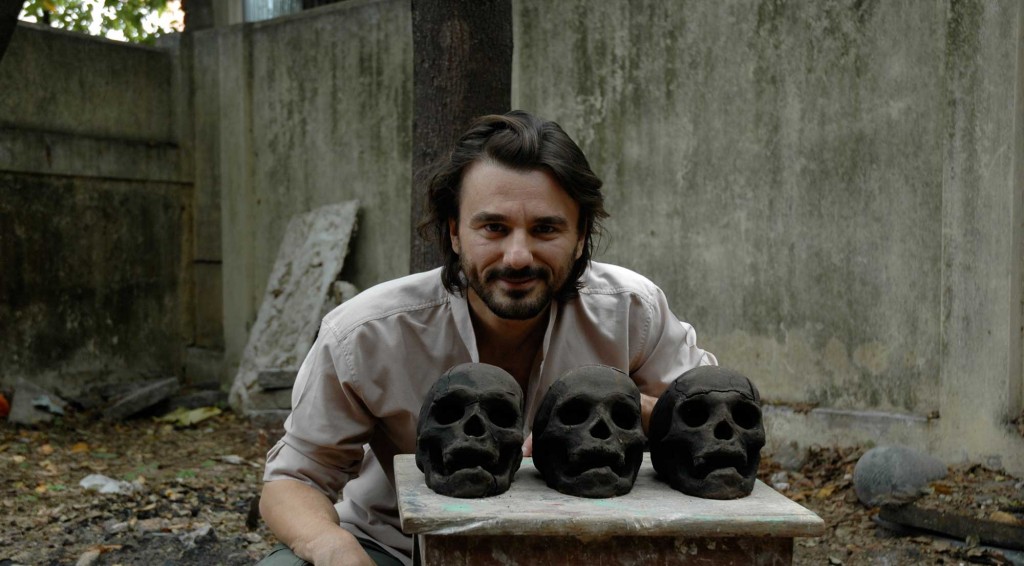 "I have traveled as much as I could, trying to discover the borders between identities, but more often than not what I found were the features which unite rather than divide. Being interested in the layers of the Self I began on a journey trying to understand whether distant spiritualities would grant me a more authentic a way of seeing. When, at some point, it became clear to me that the most sacred thing, probably the only thing, was that miracle of life and the incredibly delicate balance that we all share. And it is that very balance that we seem condemned to threaten every day blinded by our routines. I've always believed in Art as something healing and sacred and now more than ever the urgencies of our times simply won't allow me to create art that's not closely linked to stitching back the tear between ethics and aestethics. Today I call Art helping people rejoin full vitality to regain the courage to live their most authentic Self."
Davide Grazioli is a Professional Certified Counselor and a Somatic Experiencing® Practioner.
He's an expert In the help relation field with a very unique background the in the world of visual arts.
Since the beginning his approach to the search of the Self and to the path to Consciousness has had a nomadic connotation and an interdisciplinary touch. This allowed him to bring his ethical contribution through most diverse 'languages' and contexts starting from painting, embroidery, sculpture, sustainable fashion design, environmental activism and social art, all the way to the help relation, trauma healing, counseling and the personal development field in general.
Today his work is primarily focused on Somatic Experiencing® facilitation processes at an individual level and with groups, sometimes also involving artistic languages in the help process.
In recent years he has worked as a counselor, coach and trainer designing and conducting seminars on themes with a highly somatic and stress related content such as: Conflict management through a Polivagal lens, Team-building, Counseling, Bottom-up somatic self-regulation techniques, Public speaking, Personal talents exploration, Gender based violence and soft skills.
Besides the one-to-one sessions, his trainings have been addressed to hospitals, schools, health organisations, corporate managers, athletes and professional coaches.
Davide presently works in tight connection with a team of psychotherapists, psychiatrists, trainers, cranial-sacral operators, rolfers and physiotherapists in order to support persons, couples and organisations in the delicate processes of change, growth and trauma renegotiation.
Davide works in English and Italian between Udine and Milano and offers online sessions.
Davide Grazioli was born in 1972 in Milan. He lives and works in Udine and Milano.
Education:
2014-2017 Diploma Process Counseling School SPC of Triest
2016-2018 Diploma of Somatic Experiencing® Pratictioner (SEP)
2018 Master Degree in Public Relations (IULM Milano) with a thesis in the Psichology department on 'Somatic Experiencing and the bottom-up approaches to the renegotiation of trauma'.
2018 Professional Counselor Certification c/o Si.Co (Società Italiana di Counseling) Roma.
2019-2020 Diploma of N.A.R.M. Practitioner (Neuro Affective Relational Model by Laurence Heller) Istituto Somamente Milano.
2021 Davide joins the Assistant team in the Somatic Experiencing® Trainings in Italian and English